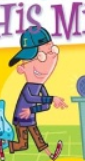 Mr. Hynde is the weirdest music teacher ever. He was hired after Mr. Klutz fired the previous music teacher, Mr. Loring.
Appearance
Edit
He is predicted in his 19-25s and wears a cap, glasses and a cool hairstyle.
Behaviour
Edit
He raps and sings all the time, and hates Mozart and Irving Berlin and other boring composers. He likes funk music and rap. He was born a rapper, and only plays the turntable. He even made Mr. Klutz rap and bongo on his bald head. Only Andrea and Emily dislike him because he's way too informal, but they still think he looks cute. He even plays guitar and sings country, folk, pop, opera pop, and rap songs. At last, much to everybody's disappointment, he leaves for American Idol and takes the title and the gold trophy for Andrea's favorite song, Tomorrow. However, he keeps focusing on rapping and singing and produces his own albums. After he leaves, Mr. Klutz re-hires Mr. Loring.